Hussain Shahid has been elevated to the prestigious position of Resort Manager after serving the Holiday Inn Resort Kandooma Maldives with dedication for 14 years. When Shahid joined the resort in 2009 as the Director of Human Resources, his journey officially began. He developed his hotel management abilities over time, moving up to the post of Resort Manager from that of Executive Assistant Manager.
Shahid reflects on his time at Kandooma with happy memories of the sense of community he experienced from the first day he joined. Interestingly, he had not originally planned on working in hotels. He wanted to go into government like his father when he was a child in the Maldives. Shahid spent a few years working for the government because he wanted to wear a tie and appear clever. The formation of a music group with friends after secondary school, which introduced him to the world of resorts and entertainment, however, caused his path to take an unexpected turn.
Shahid found great satisfaction in the experience of entertaining guests at resorts, however, he wasn't aware at the time of how it would influence his future profession. Shahid discovered that his government pay wasn't enough to support his family once he got married and had children. He decided to enter the hospitality business in search of greater chances, attracted by the higher income and using his prior work history to acquire a managerial job.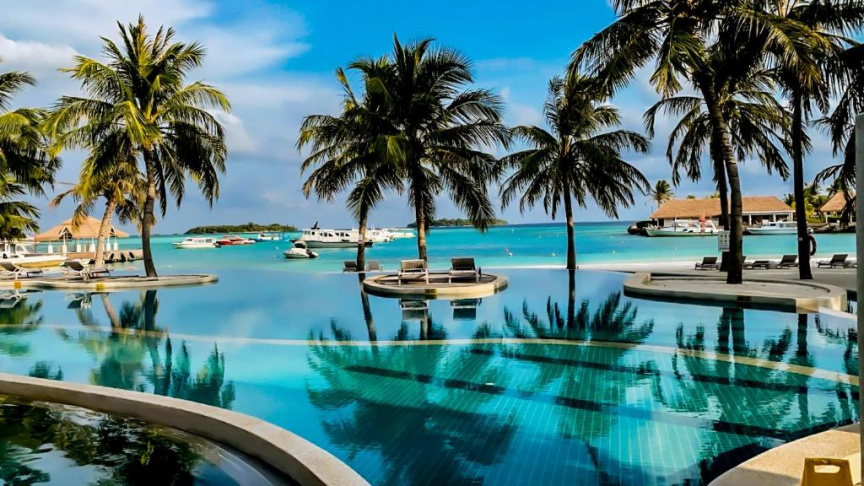 Helping visitors fulfil their "once in a lifetime" fantasies give Shahid the most fulfilment in his job. Shahid takes satisfaction in being a part of such experiences, whether it's helping people cross items off their bucket lists or seeing their dreams come true. His commitment extends to his staff as well because he takes great delight in guiding and helping them advance their professional careers in the field and finds inner fulfilment in their accomplishments.
Shahid stresses the value of patience when it comes to leadership traits. He aspires to exhibit the qualities of a good leader, including patience, respect, humility, composure, active listening, and resilience. Shahid views being promoted to Resort Manager as a key step toward achieving his long-term professional objective. He anticipates a more approachable role in problem-solving, directing operational aspects, and playing a significant role in the overall administration of Holiday Inn Resort Kandooma Maldives with increasing duties and a concentration on the culinary sector.
Shahid serves as an inspiration for ambitious professionals in the Maldives and provides insightful counsel to young people considering careers in the business. In order to advance in management, he emphasizes the value of obtaining the appropriate education and experience. He advises finishing high school, pursuing a diploma in hospitality, gaining a few years of experience in a well-known resort (either domestically or abroad), and then thinking about getting a college degree or getting an MBA. Shahid also emphasizes the value of acquiring global experience.
Finally, Shahid aims to become renowned as a superb operational leader while managing large-scale resort operations. He is sure that by doing things one step at a time, he will attain this goal soon.