With the debut of its ultra-luxe Guest Transfer Vessel, the exclusive Jumeirah Maldives Olhahali Island and Gulf Craft redefined luxury travel in the Maldives.
The Gulf Craft 48 VIP is meticulously crafted to reinvent onboard comfort standards and is intended to raise the bar for first-class guest transfers in the Maldives.
With magnificent interior designs and furnishings to match the unmatched layers of comfort and sophistication, the 48-foot VIP Guest Transfer Vessel is furnished with opulent amenities inspired by the resort. One of this vessel's standout features is its roomy seating, which is tastefully upholstered in velvety leather and has a classy hand-stitched accent. Innovative elements like wireless phone charging ports, adjustable footrests, and back, footrest, and recline settings further enhance the VIP seating.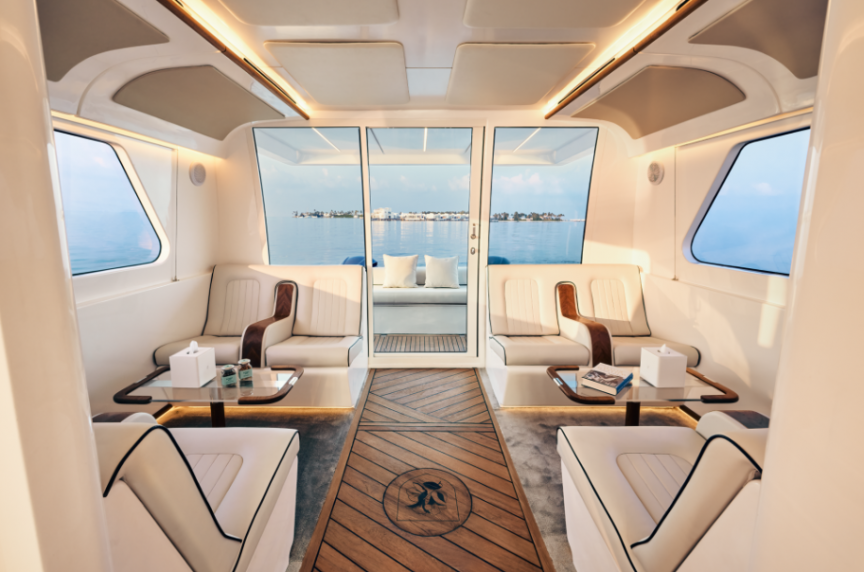 Visitors are cordially welcomed to unwind in the outdoor VIP lounge in the back of the ship, which is furnished with plush leather sofa-style seats on the turquoise deck. With captivating surroundings and expansive views of the Indian Ocean embellishing the landscape, this open space is the perfect spot to unwind before arriving at the resort.
The General Manager of Jumeirah Maldives Olhahali Island, Mohamed Ashraf remarked "The collaboration between Jumeirah Maldives Olhahali Island and Gulf Craft is a notable partnership in the luxury travel industry; guests can now look forward to a truly unforgettable journey to the resort. The launch of our new VIP guest transfer vessel reflects Jumeriah Group's position as a leader in luxury hospitality, delivering unparalleled unique guest experiences that exceed expectations to delight our guests at every opportunity."
Sharing the enthusiasm of this partnership, Mohammed Hussein AlShaali, Gulf Craft Chairman commented: "We are proud to have partnered with the stunning Jumeirah Maldives Olhahali Island to create a vessel that reaches new heights of luxury and design. We are confident that the Gulf Craft 48 VIP will establish a new benchmark in the Maldives for luxury transfers."
Jumeirah Maldives Olhahali Island's dedication to innovation in serving the most discerning of travellers by pushing the boundaries of luxury hospitality in the Maldives and around the world is shown in the recently launched luxury guest transfer experience. The serene island in the Indian Ocean has 67 beach and over-water villas that were built in the traditional Maldivian style, and it is well known for creating the best wellness, culinary, and leisure experiences in the country.