With a variety of special packages and customized options, the renowned Secret Water Island in the picturesque Shaviyani Atoll is inviting couples to celebrate their love story there on Valentine's Day.
Intimate dinners beneath the stars, relaxing spa getaways, and romantic cruises are just a few of the romantic activities available to couples, preparing the way for the greatest of romances on the island.
The thoughtfully chosen moments are designed to reignite the love and create more enduring memories in paradise. Due to this, Fairmont Maldives, Sirru Fen Fushi highlights a number of its romantic excursions, beginning with the "Romantic Retreat."
The stay would be at the recently unveiled Beach Tented Villas, setting the atmosphere for a luxurious glamping excursion. It is suitable for couples to let their inner adventurer go. The package also includes outdoor activities, allowing visitors to experience the island's many ecological projects firsthand. Couples looking for an unforgettable experience can make memories in paradise while fully embracing sustainability.
They can go to the Sustainability Lab, a centre for eco-education where plastic trash is turned into treasured keepsakes that can be brought back home as mementos, and plant a coral there that they can come back to later. Couples can enjoy a massage together on the spacious terrace of the property before treating themselves to a spectacular beach BBQ meal prepared by a private chef.
Spa-loving couples may relax at the renowned Fairmont Spa with the 'Valentine's Dream' treatment, which includes a 60-minute full-body massage and a 30-minute nourishing scrub. After that, a luxurious floral bath and a glass of sparkling wine are waiting for you. Prior to and after treatments, couples can unwind in the adults-only jetted pool. They can also strengthen their bond by participating in a revitalizing couple's yoga class led by the on-site wellness expert.
Sirru Fen Fushi Love is the perfect destination for lovers who have been brought together by adventure. Here, couples can set out on an ocean adventure onboard the luxury boat Azimut, owned by Fairmont Maldives. Enjoyably cruise the Shaviyani atoll's blue waters, or take things a step further by joining the "Finolhu Crusoe."
As part of this novel experience, visitors will be anchored off onto a desolate sandbank where they may seclusion the greatest features of nature. All that Finolhu Crusoe promises are swimming freely in the clear waters, snorkelling to meet the marine creatures, and watching the sunset with your spouse while enjoying Champagne and canapes.
As the best romantic experiences are provided to couples, this top-of-the-mind excursion is sure to set hearts aflutter in the Maldives. The lavish package includes a sunset yacht ride, a very relaxing couple's massage, and some celebration Champagne to start. The culinary crew will treat lovers to a lavish four-course supper or a private BBQ dining in the evening, beneath the moonlit sky.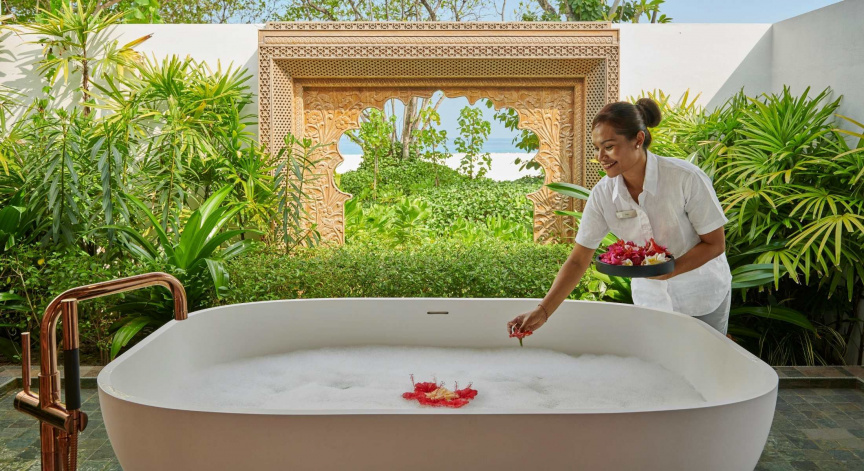 On February 14th itself, Azure, the by-the-sea restaurant of Fairmont Maldives, will hold a Valentine's Day Wine Dinner for couples on the island. Valentines can also enjoy a variety of destination dining experiences alongside it, basing their choice on a variety of picturesque settings. This involves having dinner while seeing an amazing sunset or ending the night under a starry sky.