Six Senses Laamu has announced the opening of its Sea Hub for Environmental Learning in Laamu (SHELL) - which is scheduled to be officially inaugurated on March 1.
The SHELL, which has a total square footage of 5952, is tucked away on the resort's sunset beach. Numerous amenities, including a gallery exhibition space, offices, a marine laboratory, a cinema room, and a kids' area, are included in the modern interiors.
The Maldives Underwater Initiative (MUI), a marine conservation initiative run in conjunction with partner NGOs like the Olive Ridley Project, Blue Marine Foundation, and Manta Trust, will also be housed in the SHELL. Through its cutting-edge amenities, the multipurpose area will provide a variety of immersive marine conservation activities for visitors to enjoy.
The rich aquatic life of the Maldives will be on show in the 2,336 square foot primary exhibition room, encouraging visitors to experience unique encounters. The MUI team will also conduct seminars and include visitors in a wide range of activities that are related to their research, conservation efforts, and initiatives. In a similar vein, the SHELL will provide a venue for top researchers, stepping up its efforts to accomplish sustainable resource management in Laamu.
The SHELL's major gallery, Tank, will have a high-resolution LED display floor and five instructional viewing booths for both children and adults, bringing forth immersive learning experiences. Here, visitors will get a glimpse of Laamu's varied underwater environment while learning in-depth about particular aspects of marine life.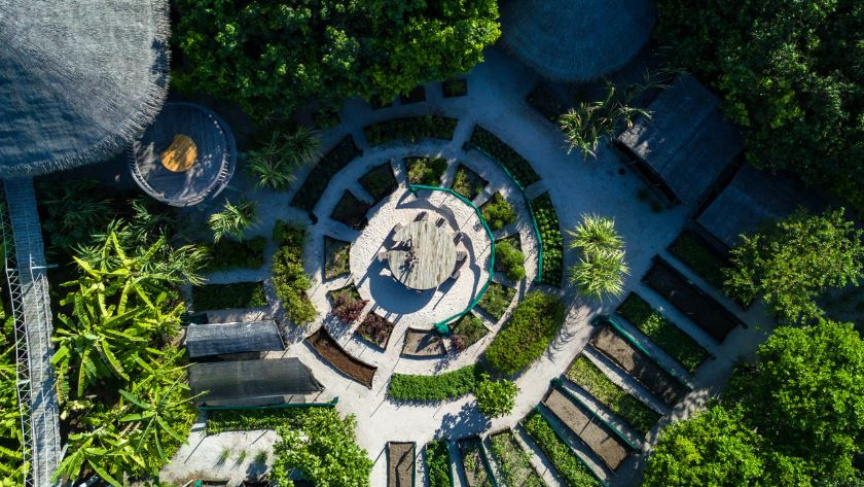 The immersive experience, created by Singapore's Illuminate Productions, is inspired by the glass-bottom boat and aims to inform visitors about the fascinating marine life that surrounds the resort. The highlighted content will be routinely updated with fresh film shot by the resort's diving team, resulting in a constantly-evolving backdrop for visitors to enjoy throughout their numerous visits.
With the aid of cutting-edge technology, the Kids' Zone offers an even more exciting experience. Young people and aspiring marine biologists can use various tools, like as the sandbox and "Draw Alive" experiences, to uncover the mysteries of Laamu and its underwater world. Using projection mapping technology, children can modify and recreate ecosystems and topography in the augmented reality sandbox.
While this is happening, they may colour their favourite marine creatures on Draw Alive and watch as cutting-edge animation techniques bring them to life. They can then observe how the organisms swim and glide throughout the virtual environment.
Additionally, the SHELL has a 506-square-foot amphitheatre with breathtaking underwater imagery that serves as a backdrop for the team as they share their stories of the land and seas of Laamu and present their research and discoveries to visitors and professional colleagues.
"The opening of the SHELL at Six Senses Laamu is a milestone moment for the resort and the company overall, as it truly represents the passion for the ocean environment and biology, a key agenda item for Marteyne and her team. We are equally delighted and excited at how Six Senses, through the SHELL, is bringing to life our company values in the beautiful and fragile Maldives ecosystem," according to Six Senses CEO Neil Jacobs.