In time for the holiday season, Vakkaru Maldives further improves the guest experience with two brand-new, thrilling offers: Jungle Cinema and Anguru Teppanyaki restaurant.
The Jungle Cinema is situated in a quiet area in the middle of the island, true to its name. The cinema has ten seats and is surrounded by lush tropical foliage. It is perfect for a small group of friends, a family, or even a couple having a romantic movie night. Screenings are possible every night because of the large selection of movies offered.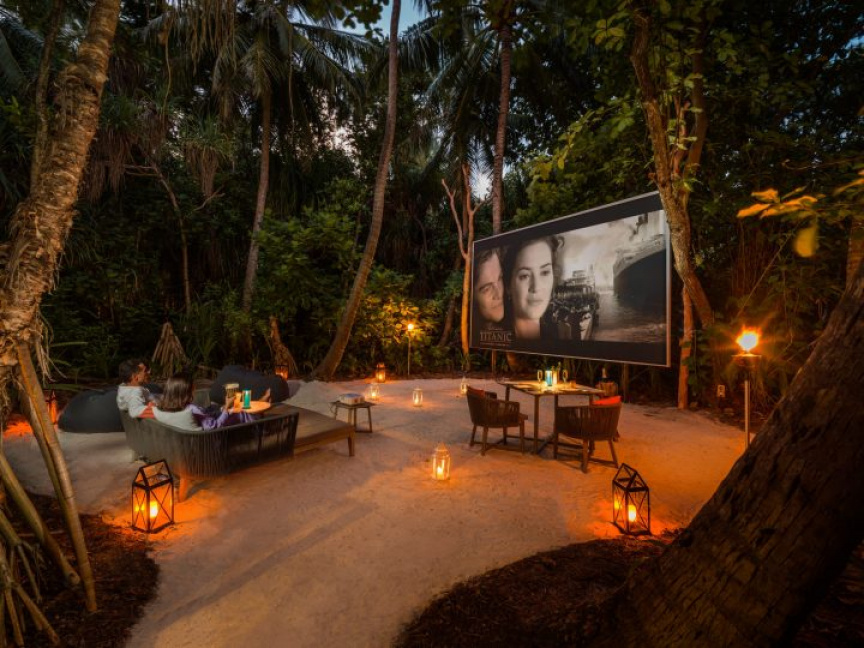 Both screenings begin at 7:30 p.m. and end at 9:30 p.m. Popcorn and soft drinks are provided for a private movie showing at the Jungle Cinema. A set menu dinner will also be served throughout the film for anyone looking to have a more extravagant evening.
The sixth dining and drinking establishment on the island resort is the brand-new Anguru teppanyaki restaurant, which has recently been added to the Vakkaru dining scene. The restaurant is located close to the main pool and is housed under a gazebo with a thatched roof. Customers may see the chefs prepare meals before their very eyes. Anguru, which is open for lunch and supper and seats 10 people, offers an a la carte lunch menu and set dinner menus.
Sushi, maki rolls, nigiri, and sashimi are available as starters on the a la carte menu. There will be a variety of premium meats and fresh seafood options for the main course, including Australian Wagyu, Angus cattle, Maldivian Grade A tuna, Scottish salmon, and Maldivian lobsters. Along with the main courses, there will be miso soup, grilled vegetables cooked over teppanyaki, Japanese pickles, and traditional Japanese fried rice. There are also several options for dessert.
"All our guests are evolved, luxury travellers. And at Vakkaru, we are always looking for ways to improve and elevate the experiences we offer to match and exceed their expectations. As a result, both Jungle Cinema and the Anguru Teppanyaki restaurant have been refined with singular attention to detail to deliver unique, exceptional moments to our guests," says Ian McCormack, General Manager of Vakkaru Maldives.