As part of its goal to become carbon neutral and dependent on renewable sources of energy, the Maldivian government signed an agreement with Thai based company Ensys for the installation of 5 megawatt Solar photovoltaic systems on the linking highway between Hulhule' and Hulhumale' in the capital region.
The Ministry of Environment signed the agreement with Ensys on November 24, 2020.
The Government of Maldives, @MoEnvmv has signed a 5 MW solar project PPA that will support the Maldives in moving closer towards its #renewable energy targets. @ibusolih @WBMaldives @DrHussainHassan @STELCOMALDIVES @HMughnee @WorldBankNepal #ASPIRE pic.twitter.com/vtEocYrYaF

— Ministry of Environment (@MoEnvmv) November 24, 2020
The installation of this system is financed by the World Bank under a project by the Ministry of Environment named the 'Accelerating Sustainable Private Investment in Renewable Energy initiative (ASPIRE).
"The 5 MW PPA signing is a part of that overall mission. This will lead the way for the other renewable energy and storage targets the Government of Maldives targets to achieve." Read a tweet by the Environment Ministry regarding the project.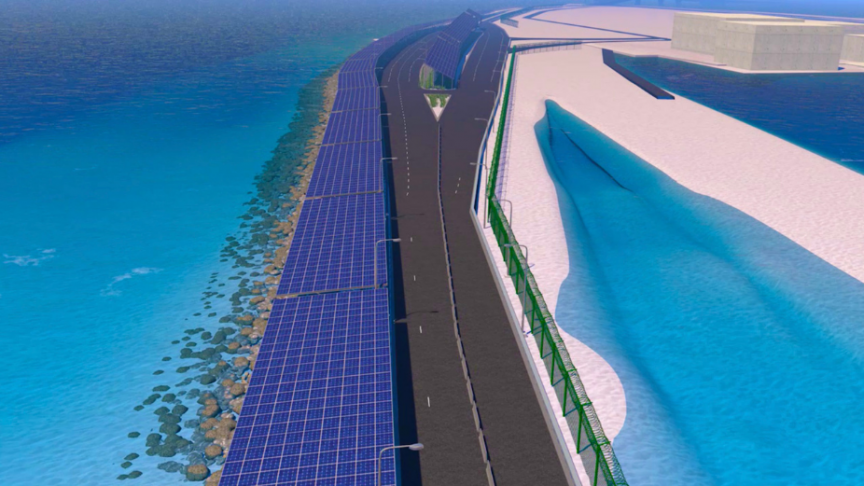 The Ministry also stated that over 27 companies had shown interest in the project and that the model for the project holds the promise of replication across other Small Island Developing States nations.
Under the project, the installation of the system between Hulhule-Hulhumale' will be the largest such initiative in Maldives and will support the Maldives in moving closer towards its renewable energy targets, said the Ministry in a separate tweet later on.